List
MSOA-20

Introduction
Description
Cases
COLORBO wood wool acoustic panel is made from imported poplar .wood wool mixed with some magnesite materials and suppressed under the high-temperature,without any industrial addition, formaldehyde release meet the national environmental standards E0 class. COLORBO wood wool panel's weight only is half of the traditional wooden acoustic panel .It could utmost reduce the carrying capacity of the ceiling and wall ,and reduce the total cost reasonably. Make it safer and economize manpower. Fire performance could reach the national grade A2,The NRC sound-absorbing coefficient up to 0.8.

It combines the advantages is wood and cement board :as light as the wood ,as substantial as the cement ,with the characters like sound-absorbing,shock resistance ,fire resistance,waterproof ,moisture&mildew protection,it can be widely used in sports stadiums theaters,cinema,conference room,churches,factories,schools,libraries,swimming pools and the offices,and has a good acoustic and decorative effect.

The capacity and quality are the first manufacturer in the country.
Core: Wood wool

Surface: Painting

Wool Width: 1.5mm

Size: 2400*1200/1200*1200/1200*600mm

Thickness: 20mm

Products photos
Feedback from contact with us
Related Product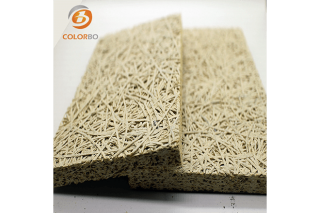 MSOA-25
Shanghai ColorBo Industrial Co.,ltd is the best MSOA-25 manufacturer in China. Offering quality prod...
Learn More